KITCHEN
Everything to inspire you and make your dream kitchen a reality
Welcome to our inspiration space, where you'll find everything you need to design, renovate and install your new kitchen. Our ergonomic design experts will support you and your projects every step of the way, from taking measurements to the finishing touches, including installing ceramics and plumbing. From demolition to decoration, and not forgetting electrical work, carpentry, tile, plumbing and painting, we'll make your dream come true.
Attention to detail from start to finish!

Optimized ergonomics
and use of space


Peace of mind
Turnkey service

8 good reasons to choose us :
We're always on the look-out for new products and current trends around the world.
We have a reputation for attention to detail every step of the way, and we are masters of the finishing touch.
Our top priority is to optimize your space and make it ergonomic.
As a general contractor, Centre Design Réalité provides general, structural and architectural services.
We have a social and ecological conscience, and we use made-in-Quebec products whenever we can.
We provide true turnkey service from all trades: kitchen cabinet installation, plumbing, electrical work, design and more.
We have more than 25 years' experience in the field and a stellar satisfaction rate.
We offer financing that fits your needs to a "T".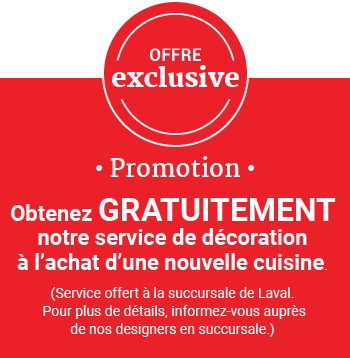 Testimonials from satisfied customers
« You're such a respectful and highly skilled team. We were pleased with how the project was executed. […] We love you guys; it was a pleasure to work with you. And I also have to mention […] excellence, because we feel that some team members, like Mr. Tremblay, were truly excellent." »
« After our first kitchen renovation experience, we chose Centre Design Réalité once again for our bathroom reno. We are thrilled with our choice and the incredible results say it all. A top-notch team and practical, functional design that's beautiful and impeccably finished. Charm and simplicity itself. Very, very satisfied. Thank you! »
« I was very happy. As someone who loves cooking, this is truly a dream kitchen. The schedule was followed to the letter, so we didn't have to live in chaos a second longer than necessary. Jean-Pierre was always available on site and did all he could to make sure we were satisfied. The designer and decorator helped us with our decisions. We recommend Centre Design Réalité. »
« The work was done well and on time. The bathroom was our second project with Centre Design Réalité and we are planning a third. »

KITCHEN
Contact one of our designers to find the best kitchen for your needs.
Kitchens are more and more stripped down, without decreasing their functionality. They provide a place for family and friends to gather, as well as a place where they can work together.
Generally speaking, there is a strong growth for environmentally friendly materials and processes that support sustainable development. Centre Design Réalité is proud to be at the heart of this trend. There is a wide range of products, and you can choose a synthetic or a natural product. Synthetic products are increasingly used, as they are more environmentally friendly. They are more economical, more realistic and more sustainable. Low pressure laminate, polyester, European laminate, rough chic, polymer, MDF and matt or glossy synthetic can be used. Natural products can be plated or massive. Several varieties can be used: maple, cherry, oak, larch, walnut, wenge and ebony, all with different lusters and colors.